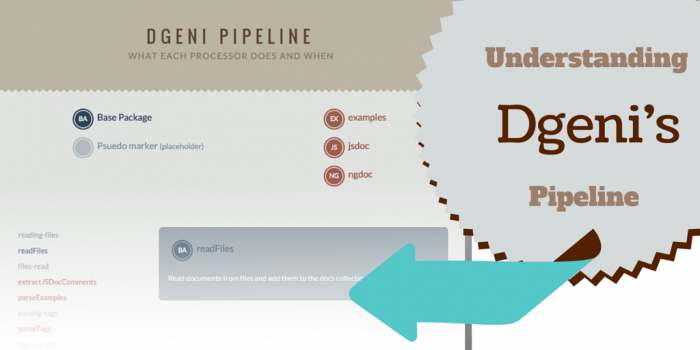 I was having a heck of a time understanding how Dgeni's processors all work together and what order they run in, so I created a Dgeni package to automatically generate a doc that shows all the processors on a single page, and gives you information on what they do.
What's Dgeni?
If you're unfamiliar with Dgeni, then you're in good company. It's being used by a lot of major Angular projects (Angular itself, the Ionic Framework, Angular Materials, etc) but there's not a whole lot of information out on it. That's too bad because it's a great tool.
Dgeni takes documentation whether formatted comments you put in your code or separate files that you specify, and generates usable organized docs from it. You have to decide exactly what you want but Dgeni makes the process of hooking everything together much easier than doing it all by hand.
If you're interested in
learning more
about Dgeni,
let me know
and I'll give you a heads up when I have more how-tos, guides, and tutorials out.
What's below is sort of a "live" infographic: you can filter by package and click around to read the docs (some of which need some more information).
Note: Some of the JavaScript doesn't work in an iframe, so check out the original page for a better view.
---